PLEASE NOTE: THIS PAGE HAS MOVED
Here are most of the different versions of "my" logo. This is a combination of Larry Ewing's Tux the penguin, and a modified version of Allen Petlock's logo. The three of us were in communication a few times about the various ideas, but IMHO, I like mine best :-).
There are several reasons for this:
There is a distinction between a "logo" and a "mascot". This allows them to be used separately, or in different ways for different reasons, as seen in the SMP and SPARC logos.
There isn't a "slogan", which is yet again something different from a logo, and often changes with time (ie "Choice of a GNU Generation" is a slogan, and not a logo).
There is a simple color scheme that can be easily used in 4 color graphics (black, white, orange-yellow, and background), or even black & white. Many logos fail in this regard.
A logo should be simple enough that it can be read even when very small. It should be possible to use the logo on a letterhead without having a color printing press. You shouldn't have to click on the small images in order to read them. Most suggested Linux logos fail in this regard.
All of the elaborations (like raytracing and shading) can also be done with this logo, but there should be a simple, recognizable basis with which to start.
The logo isn't based on the logo for another product. Why should we be reminded of another product (especially one we don't like) each time we use Linux?
The logos here are © Copyright 1997 Andreas Dilger, however they are free for commercial and non-commercial use - this means you can use them to make T-shirts, mugs, stickers, etc with them. The Tux image is © Copyright 1997 Larry Ewing. I don't require that my name appear in conjunction with this logo. However, it should not be mis-represented as the work of someone else (ie don't say that YOU created the logo). Note that I also have larger versions of Tux and some of these logos available, please contact me directly. If you are feeling generous, it would be nice to have one of whatever it is you are making...
T-shirts, mugs, and mouse pads with the basic logo are now available here, so you don't have to make them yourself anymore.
For those of you who asked, or were wondering, the Linux text in the logo is created with the Bitstream CharterBT-Bold font, which came with GhostScript. Thanks to Ed Rendl, there is now an "official" Pantone color for the orange-yellow of Tux's feet and beak - 123C for coated stock, and 123U for uncoated stock.
As of August 30, 1999, the images on this site are only available in PNG graphics format, because of recent threats by Unisys to sue web site owners who have GIF images not created with "licenced GIF programs". Most recent browsers should be OK with PNG, but if not, you can get a browser PNG plug-in or use a browser or image viewer with PNG support. See this site for more information.
---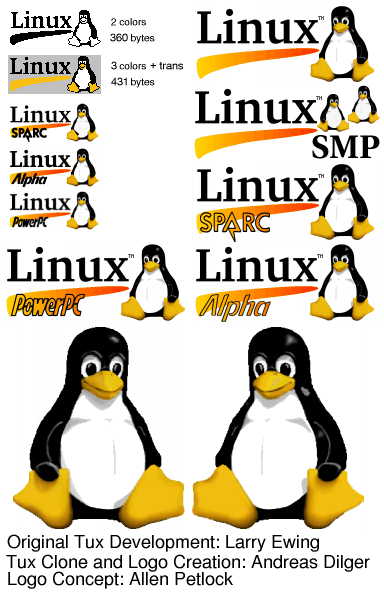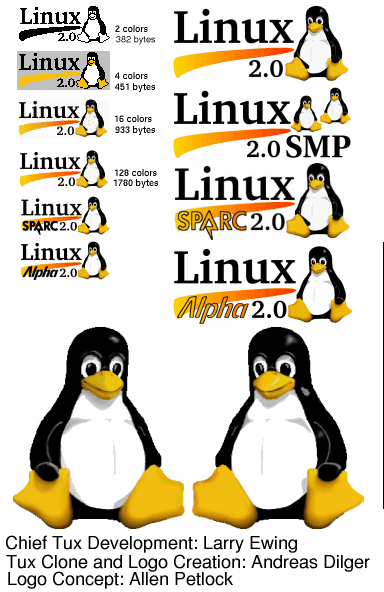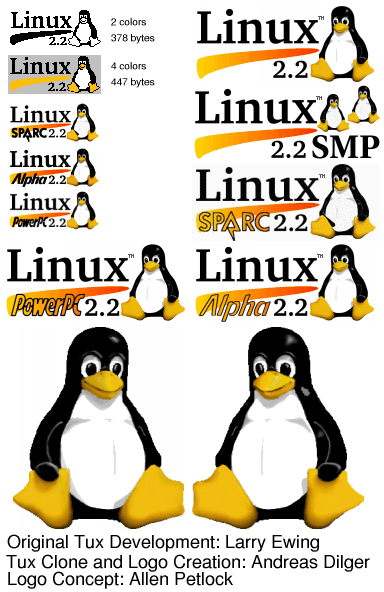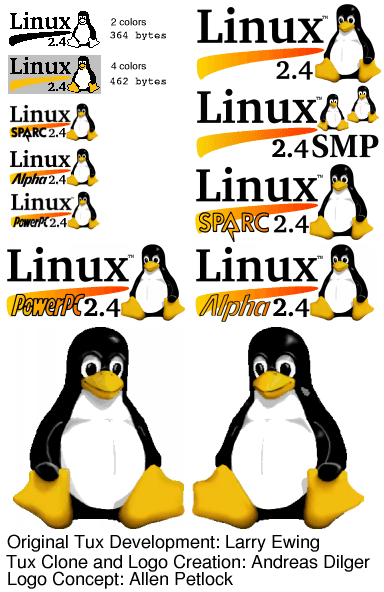 Larger 24-bit originals (741x316) of the logos are available for most versions. As well, I have a large (800x932) 24-bit Tux suitable for T-Shirts and such, and a very large (2400x2796) 24-bit Tux suitable for posters and print work. Rob Foster of Nimble Design Studio has also sent me a vector (Encapsulated PostScript) version of Tux. Please email me for more info (after de-spamifying address): <adilger at shaw dot ca>
Linux is a registered trademark of Linus Torvalds.
Linux logos without version numbers
large full-color
large 4-color
large monochrome
medium 128-color
medium 64-color SMP
medium 128-color hollow SPARC
medium 128-color hollow ALPHA
medium 128-color hollow PowerPC
medium 128-color black PowerPC
small 256-color
small 32-color
small 4-color
small monochrome
small 64-color SMP
small 256-color black SPARC
small 256-color black ALPHA
small 256-color black PowerPC
small 256-color hollow PowerPC
Linux 2.4 logos
large full-color
large 4-color
large monochrome
medium
medium hollow ALPHA
medium hollow PowerPC
medium black PowerPC
medium SMP
medium black SPARC
medium hollow SPARC
small 4-color
small monochrome
small black SPARC
small black ALPHA
small black PowerPC
Linux 2.2 logos
large full-color
large 4-color
large monochrome
medium 128-color
medium 256-color SMP
medium 128-color hollow SPARC
medium 128-color hollow ALPHA
medium 128-color hollow PowerPC
medium 128-color black PowerPC
small 256-color
small 32-color
small 4-color
small monochrome
small 256-color SMP
small 256-color black SPARC
small 256-color black ALPHA
small 256-color black PowerPC
Linux 2.0 logos
large full-color
large 4-color
large monochrome
medium 128-color
medium 64-color SMP
medium 128-color hollow SPARC
medium 128-color hollow ALPHA
small 256-color
small 32-color
small 4-color
small monochrome
small 64-color SMP
small 256-color black SPARC
small 256-color black ALPHA
---
You are visitor No: 613,796
---
<adilger at shaw dot ca>