PLEASE NOTE: THIS PAGE HAS MOVED

(PNG 320x240 74k) (JPEG 640x480 51k)


(PNG 320x240 74k) (JPEG 640x480 63k)
The local skiing is excellent. With great resorts like Sunshine Village, and Lake Louise nearby, it's hard not to go skiing as often as time permits. No, contrary to what the above images show, Canadians don't always ski in their t-shirts. This was taken on July 1, 1991. This is the Canada Day long weekend, when Sunshine Village reopens if there is enough snow left. This lets us die-hards get a last chance at the snow.
Here are my brothers on last season's cat skiing trip. This took place in March 1994, near Cranbrook B.C. Cat skiing costs much less than heli-skiing, for those that are interested in this sort of thing. We had planned to go again last year in February, but after a long drive we found out that the 65cm of fresh snow overnight was on an unstable base, and the avalanche hazard was too great. I guess this goes to show you that there can be too much snow. Plans are laid for skiing in March of 1996, so stay tuned for some more shots.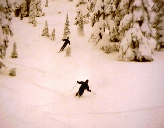 First picture (JPEG 640x480 62k) Second picture (JPEG 640x480 45k)
Third picture (Not shown) (JPEG 640x480 34k) Fourth picture (Not shown) (JPEG 640x480 47k)