---
The Multidimensional Signal

Processing (MDSP) Research Group
---
---
Our research group focuses on the theory and applications of multidimensional (MD) signal processing, with emphasis on three-dimensional (3D) discrete-domain filters applied to the image sequence and graphics problems. Our current and past work has been internationally and nationally recognized and has received a number of international and national awards.
We carry out research on such topics as:
3D Cone Filter Banks for selectively filtering spatio-temporal plane waves
3D Wedge-shaped Filter Banks for selectively filtering objects having smooth optical flow in 3D image sequences
Adaptive 3D Filters
Reduced Complexity 2D Fan FIR Filters for Plane Wave Filtering
3D Model-based Coding of Human Heads
Data Hiding in Image Sequences
Image Compression Using Fractal Block Processing (see Michael Lazar's page)
Simulation and Design Tools for 1D, 2D and 3D Filter Design (see Chris Kulach's page)
Velocity Estimation for Video Sequences Using 3D Filters (see Norm Bartley's page)
Analog and Digital Real-Time Video Filter Circuit Implementations (see Chris Kulach's page)

To Table of Contents
---
Principal Investigator - Dr. Len Bruton, FRSC, FIEEE, P.Eng.
Don Dansereau, M.Sc. student

Santosh Singh, M.Sc. student

Bentley Anderson, M.Sc. student

Arjuna Madanayake, M.Sc. student

Leila Khademi, M.Sc. student

Bernhard Kuenzle, M.Sc. student
Recent Graduate Students
Chad Dreveny M.Sc., Remi Gurski M.Sc., James Gordy, M.Sc. Margaret Cheng M.Sc., Cameron Taylor M.Sc.,

Chia-Luh Chung M.Sc., Chris Kulach M.Sc., Kazem Najafi M.Sc., Mike Lazar Ph.D., Roger Bertschmann M.Sc.

Dave Jin M.Sc., Yuejin Zhang M.Sc., Steven Knudsen Ph.D., Bo Liu, M.Sc.

To Table of Contents
---
The Group, February 1995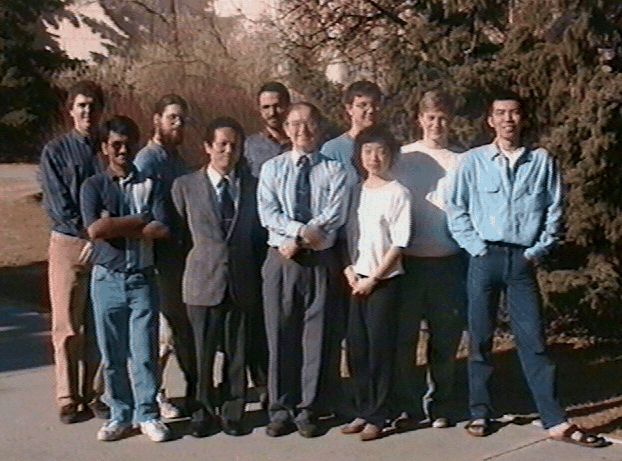 Rear: Norm Bartley, Cam Taylor, Kazem Najafi, Chris Kulach, Andreas Dilger, Chia-Luh Chung.
Front: including Naoki Matsumoto, Len Bruton, Margaret Cheng.


To Table of Contents
---
On-line publications may be downloaded

To Table of Contents
---
MPEG Demonstrations of our 3D Filter Research

To Table of Contents
---
Fractal Art Show and Awards for this Web Site
Not to be taken too seriously but you may possibly be interested in
Len Bruton's Fractal Art Collection has been selcted by The McKinley Group's professional editorial team as a "3-Star" site.
Our server has been chosen as a "Starting Point Choice", and is listed in Starting Point's Choice directory located at www.stpt.com.

"Your site has been placed in the Starting Point - Education section of the directory because it provides our visitors exceptional presentation, depth of content, and value within that category."

To Table of Contents
---
---
The MDDSP Research Group receives financial support from the Natural Sciences and Engineering Reseach Council (NSERC) of Canada. The Group is located in the Department of Electrical and Computer Engineering at The University of Calgary, Alberta, Canada.
---
You are our visitor no:
---
We welcome your comments/suggestions:


To Table of Contents
---
This page last updated: Friday, 20-Dec-02 22:48:55 MDT.
---